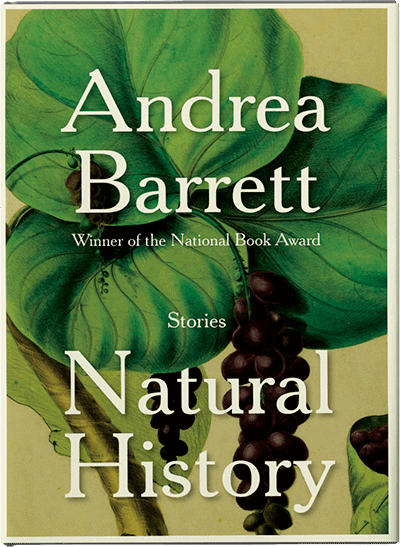 "[Andrea Barrett has] a scientist's fascination for the natural world, but her primary concern is always human character and community."

— Paris Review
Buy Natural History Today
A masterful new collection of interconnected stories, from the National Book Award – winning author.
In Natural History, Andrea Barrett completes and connects the lives of the family of scientists, teachers, and innovators she has been weaving throughout her books since her National Book Award – winning collection Ship Fever was published twenty-five years ago. The six exquisite stories in Natural History (including the unforgettable capstone, the novella-length title story) are set largely in a small community in central New York State and portray some of her most beloved characters. Told with Barrett's characteristic elegance, passion for science, and wonderful eye for the natural world, these psychologically astute and moving stories evoke the ways women's lives and expectations — in families, in work, and in love — have shifted across a century and more.
Throughout, Barrett's great theme comes shining through: how the smallest events of the past can have large reverberations across the generations, and how potent, wondrous, and strange the relationship between history and memory can be.
Praise for Natural History
"An imaginative miracle woven of complexly connected stories…Immersing oneself in Natural History is an experience both bracing and magical… [T]he blurring of distinctions, of past and present, reality and fiction, is enhanced by a narrative consciousness that doesn't hover over the characters so much as live in between them, switching at will from one perspective to the next, allowing us to see the world through Henrietta's eyes as well as look at her the way others do."

— Christoph Irmscher, Wall Street Journal
"Each story here offers [Barrett's] signature gifts: lyrical distillation of scientific complexity, artful wonder at the natural world, exquisitely observed details, and prose as precise and inevitable as a mathematical proof…With their kaleidoscopic interconnectedness, the overlapping circles of Barrett's stories, from this collection as well as her earlier works, add up to something large and delightful."

— L.A. Taggart, San Francisco Chronicle
"Barrett's stories advance plotlines from earlier work, but not always in chronological order. She seems to move intuitively through her fictional world, turning to whichever character or situation has built up the most psychic energy. Adored figures drop away, perhaps forever. But then a half-forgotten name surfaces, a puzzle is solved. These ​'quiet linkages,' as she has called them, feel like running int a friend by chance on the street, and give a sense that the characters' lives continue between books. This museum comes alive at night."

— Regina Marler, ​

"

Uncommon Women."

The New York Review of Books
"[A] confident, quiet, richly imagined collection…Barrett is bold yet deft in handling timelines, lifetimes, and points of view. Each individual story feels complete, even as the connections between them…reinforce the central conviction that there is no such thing in nature as self-containment; everything is part of something bigger than itself."

— Justin Taylor, New York Times Book Review
"The elegant linked-story collection Natural History returns the National Book Award-winner to familiar characters — drawn to natural wonders, searching for their own place in science — from her celebrated Ship Fever."

— Chicago Tribune
"Although science is Barrett's springboard, she is writing fiction inspired by the people who do scientific research and teach it. Her memorable characters have hearts and secrets and feelings and hopes and dreams and goals. As well as burdens and hardships….Barrett writes especially well about the women: marvelously brainy and ambitious women who were confined to their households or their classrooms because of social norms."
"Andrea Barrett's rewarding short story collection spans the Civil War era to the present day. Women's roles evolve, as succeeding generations explore science, writing, teaching, and even flying, while still finding room for love and community."

— Christian Science Monitor
"Telling the untold story is the heart of Natural History…The two stories merge, a kind of palimpsest in which the past is visible through the present and then shaded, artfully, by another hand. The effect is at once familiar and fresh, like being reminded of something half-forgotten and all the more treasured in the recollection, which has been the enduring feeling of all of these stories Andrea Barrett has written, across all these years."

— Holly M. Wendt, Ploughshares
"Barrett depicts the natural world and the human heart with wonder, tenderness, and deep understanding. More superb work from an American master."

— Kirkus Reviews (starred review)
"Barrett transforms deep knowledge of history, science, and human nature into gorgeously vital and insightful stories in which every element is richly brewed, mulled, and redolent."

— Booklist (starred review)
"You need not have read earlier stories to be informed and dazzled by Natural History…Barrett demonstrates that while history organizes and distills events, fiction brings messy humanity gloriously to life."

— Bookpage (starred review)
"A genius-enchantress. Who but Andrea Barrett can take on the inscrutable elegance of the cosmos and the messy complexity of the human heart in a single story?"

— Karen Russell
"There is [in Andrea Barrett's writing] simply a sustained beauty of phrasing, a close care for the thing to be said and the best way to say it, that blend of precision and appropriateness that has always characterized the best prose, an attentiveness to the truth of human feeling that is in itself a supremely civilized value."

— Barry Unsworth
"Andrea Barrett the storyteller pulls us relentlessly away from false comforts, into the dazzling, often chaotic, world as it really is."

— April Bernard
"Andrea Barrett does not flinch from large subjects, yet her uncanny investigations into human curiosity are sensual and soul- enhancing, and always underlit by splendid intelligence."

— Howard Norman
---
---
---
"Her work stands out for its sheer intelligence, its painstaking attempt to discern and describe the world's configuration."

— New York Times
1996 National Book Award Winner for Fiction
The elegant short fictions gathered hereabout the love of science and the science of love are often set against the backdrop of the nineteenth century. Interweaving historical and fictional characters, they encompass both past and present as they negotiate the complex territory of ambition, failure, achievement, and shattered dreams. In ​"Ship Fever," the title novella, a young Canadian doctor finds himself at the center of one of history's most tragic epidemics. In ​"The English Pupil," Linnaeus, in old age, watches as the world he organized within his head slowly drifts beyond his reach. And in ​"The Littoral Zone," two marine biologists wonder whether their life-altering affair finally was worth it. In the tradition of Alice Munro and William Trevor, these exquisitely rendered fictions encompass whole lives in a brief space. As they move between interior and exterior journeys, ​"science is transformed from hard and known fact into malleable, strange and thrilling fictional material" (Boston Globe).
"The title novella is devastating: as with every story here, you enter right into it, and cannot entirely leave it behind."

— The New Yorker
"Marvelous stories, unlike any being written today."
"[A] gorgeously imagined story collection… Barrett's stories are precise and concentrated, containing a truly remarkable wealth of psychological and social commentary."

— Booklist
"Ranks with the best of the new wave of historical writing… Barrett courses back and forth over the history of science and the science of human relations in the nineteenth century, giving us the people behind the history — doctors, collectors, inventors, and women — a glory of passion, ambition, and love. This is just simply inspired writing."

— Douglas Glover
Beautiful stories about the wonder and work of science…In Barrett's hands, science is transformed from hard and known fact into malleable, strange, and thrilling fictional material."

— Boston Globe
More books by Andrea Barrett